Strangled dog found in Shropshire country lane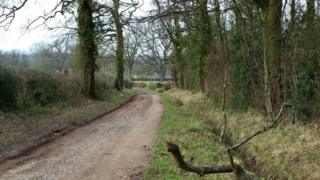 A dog "suffered a horrible death" after it was strangled and left in a country lane, the RSPCA said.
The red female Dogue de Bordeaux was discovered by a passerby close to the A442 in Quatt, Shropshire, last week.
The dog, thought to be about six years old, was found with marks and some baler twine around its neck, indicating strangulation, the charity said.
"She was a big dog and it would have taken a lot of effort to do this," an RSPCA spokesman said.
More on this and other Shropshire stories
"It is worrying that this dog may have suffered a horrible death."
The dog's body may have been in the lane for two weeks before it was found and did not have a collar so cannot be identified, the RSPCA said.
It is appealing for information.