Shropshire Council's failed 'know-how' firm IP&E axed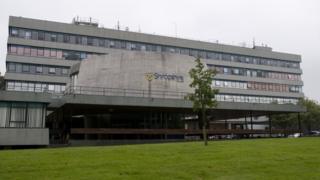 Shropshire Council's failed private venture to sell its "know-how" to other local authorities will be killed off.
IP&E, which offered council services to other public bodies, was the brainchild of former leader, Keith Barrow.
His replacement, Malcolm Pate, ordered a review. It found the company made total losses of £183,000 in its first two years and a profit of just £28,000 in its third year.
Cabinet members decided IP&E would fold with services returning in-house.
There are not expected to be any job losses when it winds down on 31 March as the majority of staff had been seconded from the council.
The Conservative-run council launched IP&E - which stands for inspiring partnerships and enterprise - in May 2012.
It offered services including a press office, education and project management.
In 2015, IP&E said it would make profits of £238,000 by 2017.
But as of November it had done £1m of work, generating £28,000 profit.
Most of the work was for Shropshire Council itself as IP&E attracted only a few small external contracts.
Mr Pate said: "It was the right thing to try and do for the people of Shropshire but unfortunately a lot of other people got into the market and it hasn't worked."
Independent councillor Dave Tremellen said he had opposed IP&E from its inception.
He said: "I've always maintained that it's one of the most undemocratic ways of delivering council services."
Shropshire Council faced criticism over IP&E staff working in rented offices a few miles from the authority's Shrewsbury headquarters.
Mr Barrow resigned as director of IP&E after admitting he had not declared a relationship with the director of an accountancy firm appointed to work with the company.
---
Analysis from BBC's political reporter Joanne Gallacher
When Shropshire Council decided to run some services through a private company in 2012, it hoped to make some money from the venture by selling those services and its expertise to other authorities.
But that failed to happen.
It made a loss of £114,000 in 2012-13, a loss of £69,000 in 2013-14 and by the time it made a modest profit of £28,000 in 2014-15 it was too little, too late.
The new council leader, Malcolm Pate, said that if it had been financially successful they would have kept it going, but they found it was competing with a lot of other councils.
---