Meerkat visit 'led to Uri Geller gorilla home closure'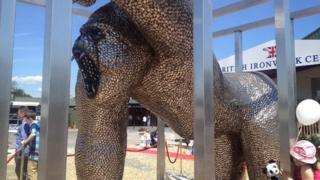 A meerkat visit led to the closure of an attraction which is the birthplace of a Uri Geller giant spoon gorilla.
The British Ironwork Centre, in Oswestry, Shropshire, was shut to new visitors as 3,000 people descended there in about two hours on Tuesday.
It said it closed "at short notice" in order to welcome a free "exotic zoo".
Bosses closed the gates and police were called to manage traffic. A monitor lizard and an earthworm were among other species attracting the crowds.
Chairman Clive Knowles said it had planned a ticketed treasure hunt for children involving metal detectors and had up to 30 families booked in every hour.
But he said social media coverage of the zoo had led to unprecedented visitor numbers.
Mr Knowles said: "The families were so determined to get in they were almost refusing to actually leave.
"What we've learnt is that really it's probably unwise to do anything that's free."
The centre created the 12ft-high (3.6m) gorilla statue commissioned by cutlery-bending entertainer Uri Geller from 40,000 spoons.