Protest over estate near Old Oswestry Hillfort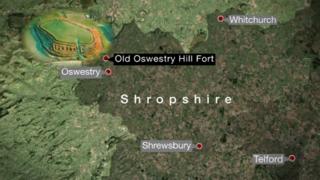 Hundreds of campaigners have gathered on an Iron Age hillfort to protest at plans for a new housing estate.
The "hug of protection" event at Old Oswestry Hillfort in Shropshire coincided with Valentine's Day.
Hands Off Old Oswestry Hillfort (Hoooh) says Shropshire Council backed plans for the estate of 117 homes despite "overwhelming opposition".
The council said it recognised the significance of the site and had sought to limit the development's impact.
Campaigner Dr George Nash said: "This is yet again another extremely visual display by the people of Shropshire and borderlands showing their support for this iconic monument."
The protesters fear the plans, which were approved in December, will see the start of "creeping development gradually devouring Old Oswestry's eastern landscape".
The Hoooh campaigners have held a weekend of events and were joined by art groups who created paintings, sculpture, textiles and jewellery "inspired by the 3,000-year-old monument and its landscape".
Shropshire Council said part of the plans which would have seen development "much closer to the monument" had been removed.
A spokesman said after listening to evidence from all parties, an independent planning inspector had decided it was appropriate for the site to remain in its Local Plan "to deliver much needed housing in Oswestry and that this benefit outweighed the potential for harm to the hillfort and its setting".