E-cigarette explodes in man's mouth in Telford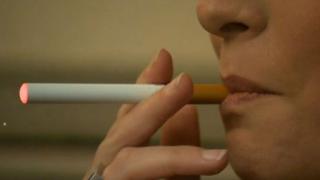 An e-cigarette exploded in a man's mouth, knocking out a tooth and leaving him with burns.
The man was smoking in his bedroom in Telford, Shropshire when the cigarette substitute blew up.
An ambulance crew went to Blakemore, Brookside and took the man to hospital.
Malcolm Stevenson of Shropshire Fire and Rescue Service said: "It's very unusual, it may even be unique. There's no report anywhere that we can find of a similar incident."
"We are aware that e-cigarette chargers have had an issue in the past. But as far as e-cigarettes themselves are concerned, this episode is the first of its kind as far as we know.
"As we understand it, the casualty was smoking his e-cigarette in his bedroom when it exploded.
"We do know the casualty suffered burns to his face, neck and hands and around his wrist but we don't know exactly how serious they were."
Guy Williams, station manager for fire prevention, said: "We are going to contact other fire services around the country to see if they've had incidents like this.
"If we find others, clearly we will be looking into it in a bit more detail and possibly contacting manufacturers to see what's gone wrong and hopefully put out advice."
A spokesman for West Midland Ambulance Service said: "We were called just before 12:35 GMT. We sent an ambulance crew and a man was taken to hospital."