Collection boxes to to help Shrewsbury's homeless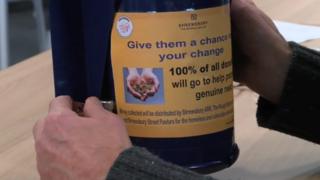 A scheme encouraging people to donate to homelessness charities, rather than to someone begging on Shrewsbury's streets, is being launched.
Four collection boxes will be installed in the town centre for donations.
The Rough Sleepers Task Force Group, Shrewsbury Street Pastors and Shrewsbury Ark will then distribute cash to help the homeless.
Shrewsbury Ark, which has a drop-in centre, said local groups would benefit from the Alternative Giving scheme.
Updates on this story and more from Shropshire
The boxes will be available next month to ensure money goes to charities instead of feeding drug or alcohol habits.
Chair of Shrewsbury Ark Howard Hutchings said: "A lot of people want to help but they're not sure by giving to people on the streets whether that money is actually going to be used effectively.
"By having this scheme they will know that it's going to local charities and local organisations who will target those who really need help and obviously more people rather than just individuals on the streets."
The boxes will be outside, at Frankwell footbridge, Shrewsbury railway station, the Market Square and Pride Hill.