Tim Peake tweets about Shrewsbury boy's homemade rocket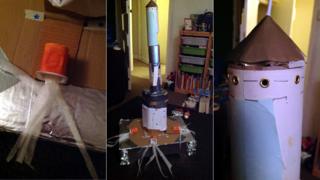 A young boy whose mum sent a photo of his homemade rocket to astronaut Tim Peake has received a reply from space.
Six-year-old Harry Lanyon from Shrewsbury assembled it from cardboard tubes, tinsel and yoghurt pots.
His mum Sara tweeted Mr Peake, saying "My son Harry has built 'Tim Peake's Peakey Rocket'. He wants to know if you would fly in it?"
He replied "Why not - as long as it's held together with duct tape what could possibly go wrong?"
Mrs Lanyon said she and Harry did not expect a response, and that "just sending a photograph into space" was exciting.
"When we got a reply, Harry was already in bed so I went and woke him up to tell him," Mrs Lanyon said.
"He was a bit sleepy and confused but when he understood, he said 'Tim? Tim-in-space Tim?' and he just smiled all over his face.
"Now he can't sleep and keeps looking out of the window to wave at the International Space Station."
Mr Peake is the first British astronaut from the European Space Agency to visit the International Space Station.
Mrs Lanyon said she was very proud of her son, who is keen on all things to do with space, "as well as dinosaurs and other things little boys like".
She said Harry's main passion was building things, because "in his own words, it's 'describing ideas without using words'".