Three men burned in chemical spill at Müller in Telford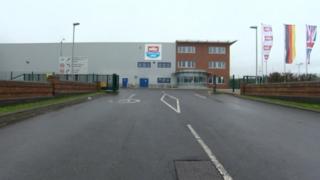 Three men suffered chemical burns in a nitric acid spill at a Müller dairy in Telford.
One of the men also suffered a back injury after falling from a ladder during the leak on Friday.
Ambulance crews and a hazardous materials team went to the plant on Granville Road, Donnington Wood.
A Müller spokesman said: "The Health & Safety Executive has been informed and we have begun a full investigation."
The spill happened at 14:30 GMT on Friday.
"One man suffered the most serious injuries which included chemical burns and a suspected back injury following a fall," a statement from West Midlands Ambulance Service said.
"He was immobilised before being taken to Queen Elizabeth Hospital Birmingham, a specialist burns and trauma centre, for further care.
"The two other men suffered less serious chemical burns.
"One required further hospital treatment at Princess Royal Hospital whilst the other was discharged on scene," the statement said.