Shrewsbury road changes proposed to divert traffic from centre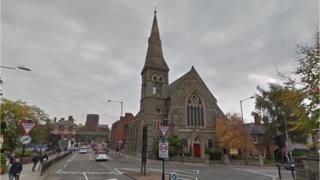 A £12m project to divert more traffic away from Shrewsbury town centre has been announced by Shropshire Council.
The authority wants to divert cars away from the town centre and improve the area for pedestrians and cyclists.
Proposals include changing the inner ring road at Meole Brace and Reabrook roundabouts and roads around English Bridge. Other ideas are wider pavements and better cycle routes into town.
The plans are expected to go out for public consultation in February.
Updates on this story and more from Shropshire
Funding will come from the Marches Local Enterprise Partnership and developers' levies.
A new mini roundabout in Longden Coleham and digital signs with car park information are also proposed.
Councillor Simon Jones, cabinet member for transport, said the council was seeking residents' ideas for the kinds of street furniture and materials they would like to see used in areas such as Pride Hill.
He said: "The whole idea of this is to make the town centre itself more pedestrian and cycle friendly. To keep as many of the cars out and to divert those vehicles on to the inner ring road or back on to the A5."