Flood warnings downgraded in Shropshire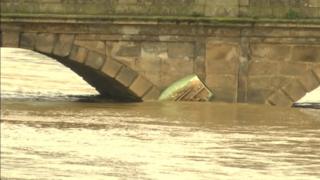 Flood warnings for the River Severn in Shropshire have been lifted as weather conditions in the county improve.
Warnings were in place for several days for areas including the Showground and Quarry in Shrewsbury, as well as at Ironbridge, Jackfield and Quatford.
Meanwhile, Shropshire's Fire Service has sent its boat rescue team to help deal with severe flooding in Cumbria.
Hundreds of homes have been flooded and more than 1,000 people evacuated in Cumbria and the Scottish Borders.