Shrewsbury River Severn hydro scheme backed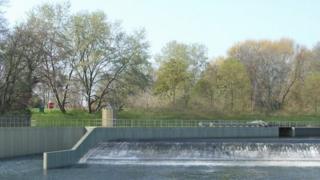 A hydro-electric turbine on the River Severn has been given the go-ahead by Shropshire Council.
Community interest group Shrewsbury Hydro plans to build a £3m-£3.5m plant alongside the town's weir.
It is expected to generate about 1.7m kilowatt hours a year - enough to power more than 350 homes.
The project has attracted more than £100,000 in grants and a planning application was approved by the local authority on Thursday.
The Environment Agency said it had no objections to the scheme, and there was vocal support from the local Friends of the Earth group.
'No downsides'
Local anglers criticised the plan saying it could have "irreversible ecological issues" and harm fish stocks.
Shrewsbury Hydro believe the turbine will save the equivalent of 900 tonnes of CO2 a year and plan to fund it by selling community shares.
Mark Scutt, from the group, said there were "no downsides" to the project, which has been more than five years in the planning.
"We've carried out so much research, I think we know the River Severn in Shrewsbury better than anyone else," he said.
"We've also talked to so many local people and tried to take account of their views."
The turbine is expected to be located underground to reduce the impact on the river bank, while a new pass will be installed to allow fish to migrate upriver.
Mr Scutt said it was too early to say when shares would be advertised, although a timetable could be clearer by September.