Job cuts threat at Muller's Market Drayton HQ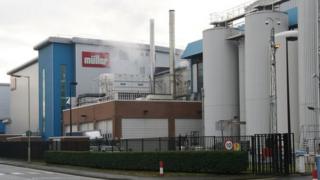 More than 40 jobs could be cut at Muller's UK headquarters in Shropshire, the firm has confirmed.
The dairy giant, one of the biggest food producers in the UK, said it needed to make cuts in the interests of "operational efficiencies" at the Market Drayton plant.
The company said a 30-day consultation had been started with staff and 43 posts could close.
It said a review would be carried out before any decisions are made.
The Market Drayton factory employs 792 staff and produces about one and a half billion pots of yoghurt every year, as well as butter and other dairy products.
"We operate in a very competitive environment and it is important that our structure reflects the current and future needs of the business," said Roger Emery, operations director at Muller Dairy.