Zulus perform at Shrewsbury Morris dancing festival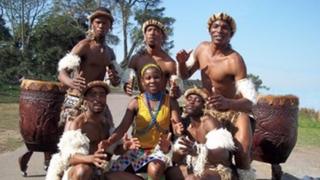 Traditional Zulu dancers are performing at an international music, drumming and Morris dancing festival in Shropshire.
The group, from KwaZulu Natal in South Africa, are among acts performing at Beats and Bells, a free event in Shrewsbury on Saturday.
Other performers include Japanese taiko drummers and dances from Shrewsbury Cloggers.
Organisers, dancing group Shrewsbury Morris, said they wanted to have a "traditional and lively" act.
Spokeswoman Bev Langton said: "It's a great opportunity to show audiences music and dance from other cultures along with our own."
The event is in The Square in Shrewsbury from 10:00 until 16:00 BST.