Shrewsbury River Severn safety calls after body found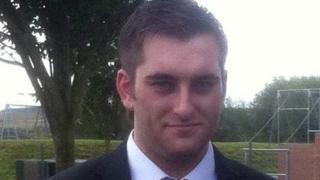 A man whose friend died in the River Severn in Shrewsbury has called for better safety measures.
Police searching for Daniel Hodgin, who went missing in the town in November, recovered the body of a man downstream, near Cressage, on New Year's Eve.
He has not been formally identified, but Mr Hodgin's family have been informed.
Ben Evans said not enough had been done since his friend Joshua Wreford died in the river more than four years ago.
The 24-year-old's body was found in the river in August 2010. He left behind a baby son.
"He was my best friend, but I actually know four people who have died in the river," Mr Evans said.
"I spoke to a few people at the time, but I feel like they told me what I wanted to hear and then nothing happened."
Mr Evans is part of a Facebook campaign calling for better safety measures along the river in Shrewsbury.
So far it has attracted more than 2,500 "likes" since it started 24 hours ago.
Mr Evans said he would like to see better lighting and CCTV on riverside pavements.
"At the very least if there was CCTV they would have seen what happened to Daniel [Hodgin]."
He also called for more railings in key locations, such as between the English Bridge and the weir, as well as near Victoria Street.
Shropshire Council has yet to comment.