WW1 poet Wilfred Owen's Shrewsbury home to get listed status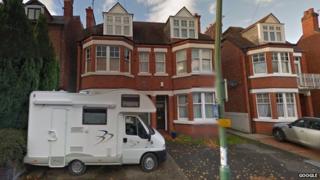 The former home of war poet Wilfred Owen is to be given Grade II listed status as part of the World War One centenary commemorations.
Owen lived at 69 Monkmoor Road in Shrewsbury as a teenager and it was the final family home in which he lived.
He spent two days on leave at the house before returning to the battlefields in France where he died on 4 November 1918 - days before the end of the war.
Owen's birthplace in Oswestry was listed in 2012.
Owen's verses, including Dulce Et Decorum Est and Strange Meeting, came to define the horrors of trench warfare. At the time of his death he was virtually unknown as a poet - only four of his poems were published during his lifetime - but his work has become a fixture on school curriculums across the UK.
Peter Owen, the poet's nephew and president of the Wilfred Owen Association, said his uncle would be "delighted" with the tribute.
It was at the semi-detached house, which was built in 1910, that the poet's parents learnt of his death. His mother Susan received the news on 11 November 1918, while the bells of Shrewsbury rang out in celebration of the Armistice.
The landscape of the area where he grew up appeared in the verses he wrote in the trenches of wartime France.
Mr Owen said: "When he lived there he could look out over the open fields which then surrounded the house.
"He used to walk down to church in Uffington across the River Severn with his family. Once, his younger brother Harold was lagging behind and called out to the others that his boots were covered in gold from where they had been walking through the buttercups.
"That phrase was used in one of Wilfred's poems - Spring Offensive."
Plas Wilmot, the house in Oswestry where Owen was born in 1893, was given grade II listed status two years ago.
The family later moved to Birkenhead and then Shrewsbury, where Owen was educated at Shrewsbury Technical School.
He joined the Army in 1915 and suffered shellshock in 1917 and was sent to Craiglockhart Hospital in Scotland to recover, and met fellow poet Siegfried Sassoon there.
After returning to the front line Owen, by then a lieutenant, was killed in action, leading his men across the Sambre-Oise canal near Ors in northern France. He was later awarded the Military Cross for his leadership.
Heritage minister Ed Vaizey said: "Wilfred Owen was one of the most profound and distinct voices of the First World War. His bleak and candid accounts of the horrors of war have shaped our understanding of life on the Western Front.
"Owen spent his formative teenage years at Monkmoor Road and wrote many of his early works here. As Owen's last home before his untimely death, I am delighted to recognise it for its link to such an iconic and important literary figure."
Roger Bowdler, English Heritage designation director, said: "Far from the Western Front, 69 Monkmoor Road is the place where Owen began to find his own poetic voice.
"The house is little altered, and he would still feel at home in his attic bedroom. It was his last real home and is a tangible link to one of one of our greatest war poets."
A sculpture titled Symmetry, commissioned to celebrate Owen's life and works was unveiled outside Shrewsbury Abbey on the centenary of his birth in 1993.