Frankwell barriers up as River Severn levels rise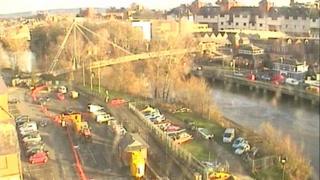 Motorists parked close to the River Severn in Shrewsbury have been asked to move their cars urgently as water levels rise.
The council's emergency planning unit issued the warning to people parked at the Frankwell car park as plans were made to put up flood barriers.
The Environment Agency has issued a flood alert for the river.
Earlier, flooding closed the rail line between Shrewsbury and Machynlleth.
The line has since reopened but delays are expected.
Dave Throup of the Environment Agency said water levels on the river are expected to peak on Saturday after heavy rain fell in mountains to the west of the town.