Flag raising at Telford barracks marks new Army brigade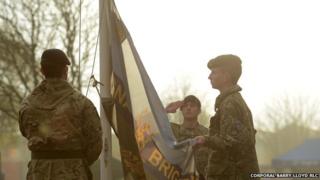 The formation of new Army brigade has been marked with a ceremony in Shropshire.
The 11th Signal and West Midlands Brigade will have 6,000 regular and reserve soldiers.
Two existing brigades have been joined to form the new unit as part of the restructuring of the British Army.
Its headquarters are at Venning Barracks, Donnington, Telford, where troops paraded for a flag raising ceremony.
The new brigade will be responsible for digital communications to the British Army in UK and overseas.
It will also provide administrative support to approximately 8,000 Army personnel and their families across Shropshire, Herefordshire, Worcestershire, Warwickshire, Staffordshire and the Birmingham area.