Shrewsbury Battlefield waste incinerator tests to start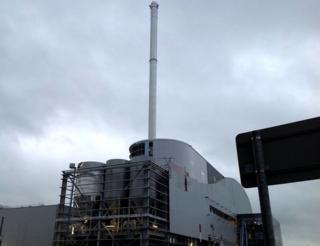 Testing is about to start at a new waste incinerator at Battlefield, north of Shrewsbury.
Leaflets are being sent to 5,000 nearby residents advising them to expect more activity and steam from the plant in the coming weeks.
The £60m energy-from-waste facility has taken two years to build following a legal battle with Shropshire Council over planning permission.
It is scheduled to start operating fully next year.
Steve Mitchell, general manager for site owners Veolia, said: "We're going to be cleaning tubes and that will make steam plumes from various parts of the plant but when it's [fully] up and running there will be relatively little to see."
The company said the facility would burn up to 90,000 tonnes of waste and generate enough electricity to power 10,000 homes.
In 2007, Veolia won a 27-year contract, worth £850m, from the Shropshire Waste Partnership (now Shropshire Council).
It successfully appealed against refused planning permission for the Battlefield site in 2012.
As a result, Shropshire Council is still paying Veolia's £825,000 legal bill, which the court agreed could be covered by instalments of £40,000 a year.