Mother's grief after hospital admits baby's body burned in 1990s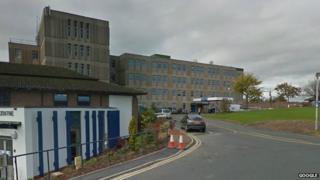 A mother has spoken of her anguish after learning her baby daughter's body was incinerated with clinical waste at a Shropshire hospital in the 1990s.
The woman said she was told a post-mortem would take place in Birmingham after she miscarried but that did not happen, the trust has admitted.
"There was absolutely no mention of disposing of her body in the hospital incinerator," the woman said.
The Royal Shrewsbury Hospital has apologised.
The trust said standards had changed significantly in the intervening years.
Baby 'disposed of'
The family contacted BBC Radio Shropshire following a separate investigation into missing baby ashes at Shrewsbury crematorium.
The woman, who does not want to be named, said: "After the birth I was put in a bath and then just sent home.
"I remember being told by the staff, 'Never mind. Just try again. Better luck next time.'"
She said the family did not see their daughter and no advice was given regarding funeral arrangements.
"I was told our baby would be sent to Birmingham Women's Hospital for a post-mortem," she said.
"There was absolutely no mention of disposing of her body in the hospital incinerator.
"We were not offered any more information regarding my baby's remains."
The woman said it had taken her 21 years to finally contact the hospital and ask what had happened to her baby.
"To my horror they have now confirmed that my baby was never sent to Birmingham for a post-mortem, as I was told," she said.
"She was disposed of in the hospital waste incinerator and not cremated with any dignity."
Lynn Atkin, from the Shrewsbury and Telford Hospital NHS Trust, said: "Parents expect and deserve the highest levels of dignity and compassion at such a difficult time.
"Standards that were felt to be acceptable and appropriate 20 years ago are not our expectations today.
"Quite rightly standards have changed and we are confident we meet the latest standards.
"We would like to reiterate the apologies and condolences we have already shared with the lady concerned."