Fresh plans for Telford's £250m Southwater scheme due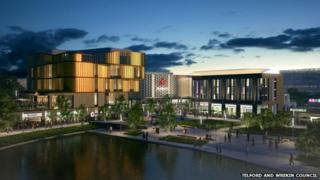 Plans for the next phase of Telford's £250m regeneration project should be submitted around Christmas, a councillor has said.
Councillor Bill McClements was speaking after a ceremony on Saturday to mark the completion of the first phase of the Southwater development.
Hundreds of people took part in the celebrations, which included fireworks, stalls and dance displays.
Mr McClements said he hoped work on the second phase would start in the spring.
"The launch was a great success," he said.
"There were lots of people. You could not find a restaurant to eat in it was so busy."
The first phase has seen the opening of a new library plus restaurants, bars and a cinema.
The second phase will see the opening of shops plus more than 100 apartments.