Sheffield's Northern General Hospital launches new helipad appeal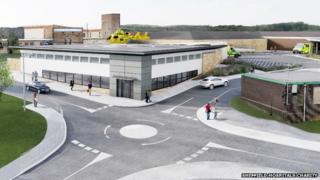 A £600,000 appeal has been launched for a new helipad at a Sheffield hospital.
The new landing pad at the Northern General would be next to the emergency department.
Dr Stuart Reid, Major Trauma Lead at the hospital, said the new helipad would shave crucial life-saving minutes off the patient's journey.
Sheffield Hospitals Charity said it would cost £2m in total, but £1.4m has been raised already, including £900,000 from the County Air Ambulance Trust.
"Presently air ambulance helicopters land on a helipad which was built more than 20 years ago," the Charity said.
"The transfer by land ambulance takes time, adds complexity and risks additional discomfort for patients.
"It's also too small for many modern search and rescue aircraft, cannot be used at night and is close to trees which no longer conforms to safety guidelines."
The Northern General is one of 26 Major Trauma Centres in England, serving around 1.8m people.
Dr Reid said around 120 patients are airlifted there each year.
This figure is expected to increase when there is a more straightforward landing at the hospital; pilots currently often choose to take patients to Leeds, Manchester, Nottingham or Stoke over the Northern General.