Shropshire Council youth workers face job cuts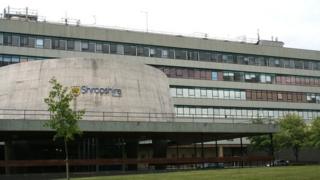 About 100 youth workers in Shropshire are set to lose their jobs as part of a restructuring of council services.
The local authority said rather than deliver many services itself, it planned to buy them in from private companies, while volunteers could also run groups.
It said it hoped many of the youth workers would be taken on by other providers.
The Unison trade union said it was an "uncertain time" for council staff.
'Storing up problems'
"A lot of the staff employed by youth services are session workers, part-time workers, who fit in these hours between very busy lives, who may only work 10 or 12 hours a week, but who are really dependent on that amount of money," Alan James, from Unison, said.
The Conservative-led council said no formal talks had yet started. It said the redundancies would probably come into force in April, but there would be a review.
Alan Moseley, leader of the Labour opposition group, said he had received emails from worried parents.
Tracey Huffer, chair of the Ludlow Youth Partnership and Liberal Democrat councillor for Ludlow East, said the decision meant the county was "storing up problems" for the future.
"Of course, some youth workers will transfer to whatever organisations Shropshire Council funds. But not all will," she said.
"[The council] doesn't seem to recognise the knowledge youth workers have gained of problem youngsters. That takes years to build up but only days to lose."