Georgia Williams death: Officers face misconduct probe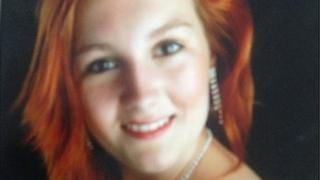 Six officers are being investigated for possible misconduct over contact with a man who went on to murder schoolgirl Georgia Williams.
In December, Jamie Reynolds admitted murdering the 17-year-old from Telford before dumping her body in woodland.
He was previously cautioned for trying to strangle a teenage girl in 2008.
Devon and Cornwall Police, examining West Mercia's earlier dealings with Reynolds, said six officers had been given misconduct notices.
In a statement, the Devon and Cornwall force said the officers had not been suspended.
Sexually motivated attack
In April, Georgia's mother Lynette Williams, called for the Independent Police Complaints Commission (IPCC) to investigate the West Mercia force, claiming her daughter might still have been alive if Reynolds had been dealt with better.
West Mercia referred itself to the IPCC, but was told it could carry out its own investigation. It later said it would be "more appropriate" for another force to lead the inquiry.
In a statement, Mrs Williams said the family was "disappointed" by the lack of detail so far in Devon and Cornwall Police's investigation.
Georgia was strangled in a sexually motivated attack in May 2012, four years after Reynolds was cautioned for trying to strangle another teenage girl at his home.
Stafford Crown Court heard that at the time of his arrest, he had 16,800 images and 72 videos of extreme pornography on his computer.
These included images of women he knew in which ropes had been digitally added around their necks.
Reynolds, of Avondale Road in Wellington, was ordered to spend the rest of his life in jail.