Shropshire hospital trust in £6m overspend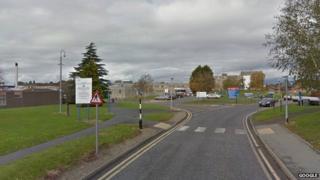 The trust running Shropshire's two main hospitals has revealed a £6m overspend in the first five months of the financial year.
Shrewsbury and Telford Hospitals Trust had agreed an £8.2m deficit with the government up to April 2015.
In papers before the board on Thursday it said its projected £3.8m overspend for April to August had exceeded £6m.
The trust has already been referred to the Health Secretary over its finances.
The hospital trust, which has previously received a £4m government bailout, blamed higher than expected spending on temporary staff to cover sickness and improve waiting times.
Staff pay is £2.75m above budgeted levels.
The report to the trust board also said there had also been an increase in demand on acute services, compared with the same time last year.
Merging services
The trust has called for extra funding from the county's Clinical Commissioning Group.
It has previously said it could not end the long-term deficit without merging more services on a single site.
However, plans to replace two A&E units in Telford and Shrewsbury with a single emergency care centre on one site - and two urgent care centres, dealing with less serious injuries - have been questioned by shadow health secretary Andy Burnham.
"When I was health secretary the proposal was floating around then and I wasn't keen on it. I said 'don't do it' because of the geography of the area," he said.
While centralising services "made sense" in many areas, allowing a "better standard of care" for the most serious of cases, he said the size of the county and travel times had to be taken into account.
"In Shropshire I'd always taken the view that was a step that would be dangerous."
A public consultation is expected to start next year.