Selfie world record bid 'inspired by Georgia Williams'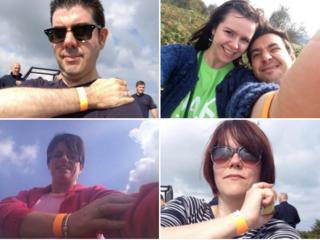 About 500 people have taken part in a world record selfie attempt inspired by murdered teenager Georgia Williams.
A crowd gathered on the Wrekin, overlooking Telford, to take simultaneous self-portrait photos.
Breaking a world record was one of the items on a bucket list Georgia, who was killed in May 2013, compiled before she died.
Organisers said they would now submit details to Guinness World Records, to see if they were successful.
The record attempt was part of the Hands Around the Wrekin 2014 fundraiser.
It was inspired by a 1981 event of the same name which saw 12,000 people join hands around the Shropshire hill.
One of the charities set to benefit is a trust set up in Georgia's name.
Her father Steve addressed the event and said the charity had raised about £100,000 since it was founded.
Jamie Reynolds was sentenced to a whole-life prison term for Georgia's murder.
He has lodged an appeal against his sentence.