Farmers back action over milk prices in Shropshire meeting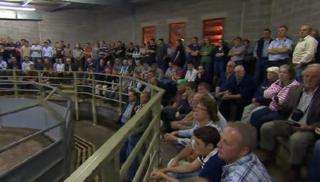 Farmers in Shropshire have voted for a return to action over falling milk prices.
The decision was made at a meeting at Market Drayton livestock market on Thursday, attended by about 500 people.
It was organised by campaign group Farmers for Action, which has previously been behind blockades of supermarkets.
Dairy UK, which represents milk processors, said "disruptive protests are in nobody's interest".
'Understand frustration'
Farmers for Action spokesman Paul Rowbottom said they would be left with "no option" but to blockade factories if processors did not increase prices.
"If we need to take positive action to make the processors realise the situation of these price cuts then that will be the next move," he said.
About 100 farmers and 20 tractors blockaded the Morrisons supermarket depot by the M5 in Somerset last September.
Shropshire dairy farmer Graham Warner said the price of milk per litre would be down by 4 pence by October and this equated to losses of £60,000 a year for him.
A Dairy UK spokeswoman said market forces determined milk prices and all markets were under severe pressure.
"While we fully understand the frustration of farmers, we strongly believe that disruptive protests are in nobody's interest and do not help the development of a profitable dairy industry based on collaboration throughout the supply chain," she said.