Shropshire schools funding problems over falling pupil numbers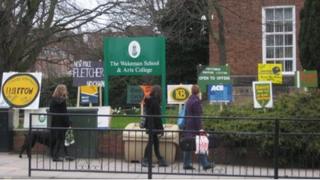 Schools in Shropshire are facing funding problems because of falling pupil numbers, a council has warned.
Shropshire council said it expected a reduction of 2,000 secondary and primary pupils by 2018 which would mean cuts in department of education cash.
An extra £10m being provided by the government in 2015 would not solve long-term problems, the authority said.
It said schools were not under threat of closure but it urged them to consider sharing staff and facilities.
A council-commissioned panel made up of head teachers, governors and councillors looked at how many babies were being born and where young families were moving to in the county.
It found there were 2,500 fewer primary and secondary pupils in the county than 10 years ago, a reduction of about 10%.
'Local clusters'
Its report predicted a further fall of about 5% - about 2,000 pupils - over the next four years.
Councillor Nick Bardsley said: "[School closures] are not on the agenda right now but we may get to that situation in a few years if no action is taken.
"We want the emphasis to be on local school governing bodies...to be talking to their neighbours and working together in local clusters to share resources and a lot of that has already started."
Mr Bardsley said it was not necessarily smaller or rural schools that were facing financial problems and that every school should be looking at its budget.
In 2012, the council closed the Wakeman secondary school in Shrewsbury and four primary schools because of "unsustainable" student numbers.