Shrewsbury Flax Mill demolition work on silo begins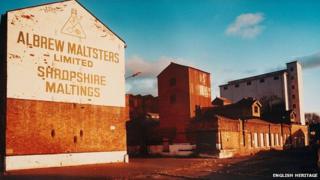 "Complicated" demolition work is beginning on a silo at a Grade-I listed mill in Shropshire.
The Ditherington Flax Mill in Shrewsbury was awarded a £12.8m lottery grant in 2013 and £6.6m in European funding to convert it into offices and exhibition space.
A 1950s silo on the site will be demolished to create more space.
The 1797 mill was the first iron-framed building of its kind and was considered a forerunner to the skyscraper.
English Heritage bought the derelict buildings in 2005.
Chris Smith from the conservation group said removing the silo would be "very, very complicated" and would take until the end of January.
The first phase of the redevelopment will also involve the conversion of the office and stables for use by the Friends of the Flax Mills Maltings as a visitor and reception centre.