St Laurence Church stonework auctioned to raise restoration funds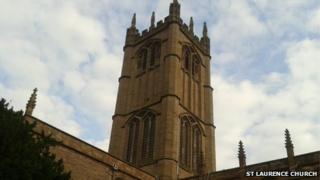 A Shropshire church has raised £5,000 by auctioning stonework to generate money for further restoration work.
St Laurence church, Ludlow, sold 45 sandstone pinnacles that have been replaced on the 550-year-old building.
Project manager Shaun Ward said it is a chance to own "a little bit of Ludlow's history".
"Rather than putting it in landfill it's better that they to a good home as they make a beautiful feature for someone's garden," he said.