Great British Bake Off: Diana Beard lost senses in fall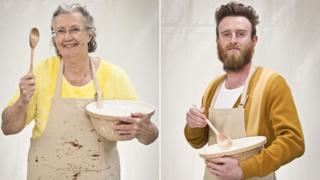 Warning: This story contains spoilers
Great British Bake Off contestant Diana Beard left the show after a fall which left her with no sense of smell or taste, she has revealed.
Her exit was announced amid controversy over the latest episode, which saw Iain Watters eliminated after he binned his melted Baked Alaska.
Mrs Beard was accused by some viewers of engineering his dismissal by taking his ice cream out of the freezer.
She said she fainted before filming the next episode, severing a nerve.
The pensioner, who lives near Whitchurch, Shropshire, said: "I fainted - which I have never done - and bashed my head, severing my olfactory nerve.
"So I have now lost my sense of smell and most of my taste."
'Stitched up'
She said she has some sensation of foods which are very salty or vinegary, but has been told nothing can be done to repair the damage.
Mrs Beard, 69, said it was a relief to talk about her fall "as people now know the truth" and "know I haven't wimped out".
The announcement that she would not be returning for episode five was brought forward by the BBC following the reaction to Wednesday's programme, she said.
The grandmother claimed to have been "stitched up" by the way the episode was edited.
The corporation said by Thursday morning it had received 556 complaints about the episode.
A BBC statement said: "Diana will not appear in the rest of the series as she fell ill ahead of filming episode five earlier this year."
The programme was filmed between April and June.