Cpl Brent McCarthy charitable trust planned by sister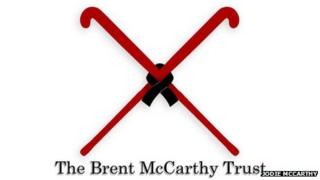 The sister of an RAF serviceman from Shropshire killed in Afghanistan is planning to set up a charitable trust in his name.
Cpl Brent McCarthy, 25, from Telford, was shot by members of the Afghan police force in 2012.
32-year-old Jodie McCarthy wants to raise money to help the families of servicemen who have been killed.
She also wants to offer younger children the chance to name a star after the relative they have lost.
"My daughter was bought a star and she named it Brent - I thought it would be a lovely idea if other people could be bought a star and have its co-ordinates in the sky to help them come to terms with their loss," she said.
Miss McCarthy has designed a logo for the charity, reflecting her brother's twin passions of hockey and the RAF.
The mother of three plans to organise a charity ball next year on her brother's birthday and other events to raise the £5,000 needed to register the charity.