Scaffolding removed from Shrewsbury statue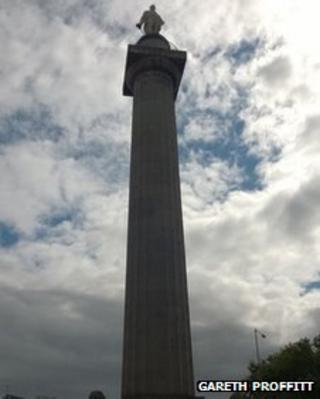 Scaffolding surrounding a statue in Shrewsbury has finally been removed 12 months after it went up.
The sculpture of 19th Century general Lord Hill was first cordoned off in 2012 after masonry started falling, endangering passers-by.
Repairs have been carried on both the statue and the 133ft-high (40.5m) column it sits on.
Long term, the Friends of Lord Hill's Column hope to replace the statue with a replica.
They said fundraising could take 18 months.
The damage is believed to have been caused by heavy rain, frost and snow.
Shropshire-born General Rowland Hill was the second-in-command to the Duke of Wellington at the Battle of Waterloo and went on to become the Commander in Chief of the British army.
Two open days have been arranged in September to allow members of the public to climb to the top of the column.