Attingham Park gets new roof to protect John Nash original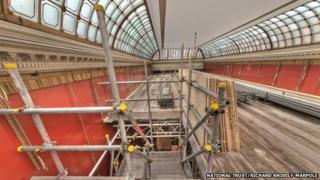 Engineers are installing a new roof in an attempt to save a Grade I-listed building designed by one of Britain's best-known Regency architects.
The picture gallery at Attingham Park, near Shrewsbury, was designed by John Nash, who built Buckingham Palace.
The curved, cast iron and glass roof has leaked almost as long as it has stood, owners the National Trust said.
Fifty-five panes of glass, weighing 12 tonnes, are being fitted into a steel frame sitting over the original roof.
Helen Royall from the National Trust said: "It's like a giant jigsaw puzzle. The panes range from 0.75m wide to 2m wide and none of them are square," she said.
"Each slot was laser-measured and the engineers designed templates to make sure they fit. Each pane is individually numbered."
She said there was no room for error.
The panes of glass are being lifted individually by crane over the 18th Century house and lowered into place.
Weather permitting, the work is expected to be completed next week.
John Nash
Nash was one of the most active architects of the Regency period - during the early 19th Century.
Born in 1752 in south London, the son of a Welsh millwright, he trained as an architect with Sir Robert Taylor.
After early set backs he went on to receive a series of commissions from the Prince Regent, who later became King George IV.
Nash designed Brighton Pavilion and much of Buckingham Palace, although the iconic facade facing The Mall was a later addition.
He also formed a successful partnership with landscape designer Humphry Repton, with the latter laying out the parks at several of the properties built by Nash.
The new roof, measuring 133 sq m (1,400 sq ft), sits on concrete and steel pads, while engineers have performed computer modelling to ensure the building can support the weight.
It will replace a secondary roof built in the 1970s over the Nash original and Ms Royall said the new structure was expected to protect the picture gallery for the next 200 years.
"The glass has a UV filter and blinds that can automatically close. One of the problems is that UV light damages collections, especially fabric," she said.
Restoration work has also seen the original roof conserved and work on other parts of the building, including the staircase and more than 10,000 fish-scale tiles.
Attingham Park was built for the first Lord Berwick in 1785. Today, the stately home and its 4,000 acres are the headquarters for the National Trust in the West Midlands.