Shrewsbury Royal Hospital helipad upgrade is under way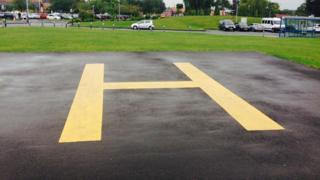 Work is under way on a helipad at a Shropshire hospital which could allow patients to be flown there in the dark.
A Midlands Air Ambulance spokesman said while the upgrade at the Shrewsbury Royal Hospital site was welcome, the service will need extra funding if it is to work on a 24-hour basis.
A temporary site will be used until the improvements are complete, due in seven weeks' time.
The helipad will also be expanded to allow larger air ambulances to land.
The refurbishment, which includes the installation of better lighting, follows a similar upgrade to the helipad at the Princess Royal Hospital in Telford.