Shropshire patients could be diagnosed over Skype calls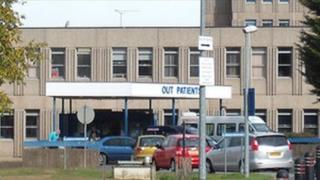 Patients could be given diagnoses over internet video calls with specialists at Shropshire hospitals.
Medics would make "virtual contacts" while they are with their patients if they need advice from a specialist at another department.
It is part of a plan to replace existing A&Es in Shrewsbury and Telford, with a new emergency centre and urgent care centres to support it.
Shropshire Clinical Commissioning Group said its plan was at an "early stage".
The so-called FutureFit clinical model includes the new emergency centre. It would be supported by the planned urgent care centres and doctors' surgeries. The plan could start within the next five years.
Shropshire Clinical Commissioning Group (CCG) said virtual contacts could help the proposed system run smoothly.
'Level of risk'
Patients would then have "timely access to specialist support" if specialists were at different centres, it said.
The CCG's accountable officer Caron Morton however told its governing board: "There is a perception amongst consultants that offering advice and guidance without seeing the patient carries a level of risk that many are unwilling to take. "
The British Medical Association (BMA) said it was not aware of Skype appointments being proposed in secondary care, such as hospitals, before.
On the use of Skype by GPs, the BMA said: "The BMA took that view that, while doctors are open to new and innovative ways of treating patients, the quality of patient care must not be compromised and there are many conditions that can only be safely assessed and treated by direct examination by a doctor."
A CCG spokesman said: "We are seeking as much feedback as possible right now. Only next summer will preferred options become clear."
Shrewsbury and Telford Hospitals Trust has previously said it was unrealistic to keep two A&Es, at the Royal Shrewsbury and Telford's Princess Royal hospitals.