Failed U-turn lorry blocks Shrewsbury town centre road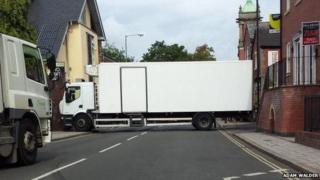 A lorry blocked a town centre street when it became stuck while attempting to perform a U-turn.
It is thought the driver had tried to turn around in an attempt to avoid a low bridge further down Chester Street in Shrewsbury at about 11:00 BST.
Charity Build It International, which tweeted a picture of the lorry, said it was stuck for about 30 minutes.
It said fellow motorists cheered the driver on as he slowly manoeuvred the vehicle out of its position.