Neen Sollars hydro scheme starts generating electricity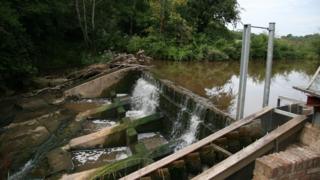 A community project to generate electricity from a river in south Shropshire has been completed a year-and-a-half behind schedule.
The scheme on the River Rea in Neen Sollars was expected to start generating power by the end of 2012.
It faced problems due to floods, as well as delays in construction and official sign-off.
The turbine is expected to produce 50,000 kW a year, which will be fed into the national grid.
It is enough to power about a dozen homes over the next 20 years, or the equivalent of about 20% of the requirements of the small village of Neen Sollars itself.
Bill Duley, from Neen Sollars Community Hydro, said: "We're running it now under better weather conditions to learn how to run it.
"Also in the interim between when we built the plant and started it up, which was about six or seven months, the turbine manufacturer refined his programme for the operation and he's been able to improve, at least on paper, the efficiency by about 50%."
The project has been funded by selling community shares worth £150,000. Delays and a "tight budget" meant it had to raise a further £20,000.
It also received a £2,000 grant to cover extra costs in getting the turbine running correctly.
Mr Duley said about 70% of the shares had been sold within 10 miles of Neen Sollars.
He said shareholders saw it as a good financial investment as well as environmentally sustainable.