Wards at Telford's Princess Royal Hospital evacuated due to fire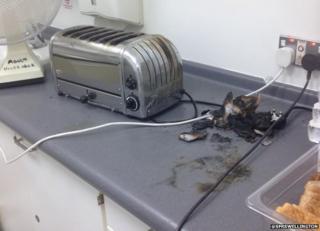 Two wards of Telford's Princess Royal Hospital were evacuated due to a toaster fire in a staff area.
Up to 20 patients were moved from beds on wards six and seven on the first floor, as smoke filled the corridor and kitchen.
Staff covered the toaster with a fire blanket and closed doors before firefighters arrived.
Patients returned to their beds about an hour after fire crews were called at about 07:30 BST on Sunday.
Craig Jackson, red watch commander at Wellington Fire Station, who attended, said: "The corridor and kitchen were heavily smoke-logged so I sent in two firefighters in breathing apparatus, with a dry powder fire extinguisher to investigate.
"The staff had followed all procedures and ensured a quick safe evacuation of the two wards.
"The patients had been moved to other wards and corridors as they were in beds.
"The toaster was in a small staff kitchen on the ward."
Adrian Osborne, from the hospital trust, said: "Thank you to the staff who acted quickly...and to Shropshire Fire and Rescue Service personnel who attended the scene.
"Thanks also to patients and staff who were temporarily moved to other parts of the hospital before both wards were fully operational again."