Russia import ban sees Belton cheese order cancelled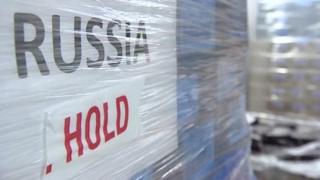 A £30,000 cheese order hours away from being sent to Russia has been left stuck in Shropshire after Russia imposed sanctions on food imports.
On Thursday, Russia banned imports of various foods from the EU, in response to sanctions placed against Russia over the conflict in Ukraine.
Belton Cheese said expansion in the country had been expected to bring in up to £2m over the next three years.
The firm said it would now look for another buyer for the cheese.
Russia has banned imports of meat, fruit, vegetables, fish, milk and other dairy items from the EU, US and some other nations.
'Positive' reaction
The cancelled order was for a range of traditional English cheeses including Cheddar, Cheshire, Double Gloucester, Red Leicester and Wensleydale the company said.
Justin Beckett, managing director of Belton Cheese, based in Whitchurch, said Russia was an "exciting" market and news of the import ban was "disappointing".
It has been trading in Russia for about three years.
The company said its business in the country was so far very limited and that the overwhelming majority of its business was within the UK and with the US.
The BBC's Moscow correspondent Steve Rosenberg said Russians have reacted positively to the ban on food from abroad.
"Shoppers told me that Russia has to respond to the Western sanctions," he said.
"They have got used to the [European] goods but could do without them and [they will] be replaced with Russian food."
He said milk from Finland and French cheeses were common in Russian supermarkets, but this is being seen as a chance for domestic products to dominate on the shelves.