Flood water closes Newport Road in Albrighton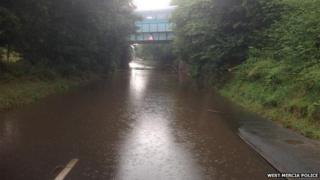 Flooding closed a road in Albrighton while the Met Office warned of further storms and showers across Shropshire.
Heavy rain on Friday night and Saturday morning caused flooding on Newport Road, at the junction with the A41.
The Environment Agency issued a flood alert in the area including the River Worfe, Wesley Brook and Albrighton Brook.
It said river levels were continuing to rise.
Dave Throup, from the agency, said the area had seen about two inches (50mm) of rain on Saturday morning.
Arriva Midlands said buses between Telford and Wolverhampton were using an alternative route around Albrighton.