UK Coal finishes Wrekin mine restoration project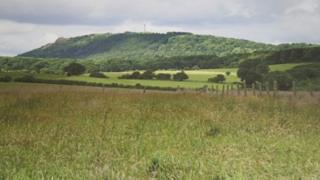 Work to restore countryside around an opencast coal mine in Shropshire has been completed.
UK Coal began the restoration project at Huntington Lane, near The Wrekin, in 2013 after the closure of the mine in June that year.
Soil cultivation and earth operations have now finished.
Over the next few months a separate team will be planting hedgerows, trees and completing footpaths at the 80 hectare (200 acre) site.
"The time scales have been round about what we said at the start," said UK Coal spokesman Craig Ball.
"Everything has gone really well. It has been virtually run to the time we had envisaged."
Mining at the Huntington Lane site started in November 2010 and, at the operation's height, employed 50 people.
But there was a shortfall in the predicted output, attributed partly to the number of historical mines in the area and just 836,000 tonnes of coal was recovered, rather than the 900,000 tonnes forecast.