Scaffolding removed from Lord Hill statue in Shrewsbury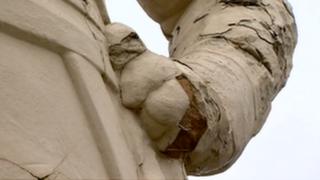 Scaffolding which surrounded a statue in Shropshire of a 19th Century general for 11 months has been removed.
The statue of Lord Hill in Shrewsbury was first cordoned off by Shropshire Council in 2012 when pieces of it fell to the ground endangering passers-by.
However, the 133ft (40.5m) column upon which the statue sits is still shrouded in scaffolding.
Jarvis Scaffolding said as yet there was no set date for the removal of the rest of the metal framework.
It is dedicated to Shropshire-born General Rowland Hill, the second-in-command to the Duke of Wellington at the Battle of Waterloo.
The Friends of Lord Hill's Column community group hope to have a new statue constructed to replace the crumbling one but say it could take 18 months to build and they are still trying to get the funding for it.