Cow rescued from culvert at Malehurst Farm, Minsterley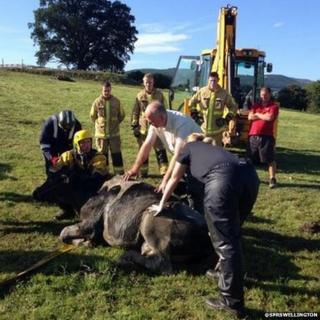 A cow was rescued by firefighters after it got stuck in a culvert on a farm near Shrewsbury.
Crews were called to Malehurst Farm, off the A488 near Minsterley, at about 06:30 BST and arrived to find the animal's feet submerged in one-metre (3ft 3ins) of water.
They created a ramp and managed to hoist it out of the ditch using lines, straps and a digger.
The cow was checked over by a vet but was unharmed.
Farmer Neale Manning believes the Friesian cow slipped into the culvert overnight.
"I thought 'how the hell are we going to get it out of there'," he said.
"It was quite a deep ditch. I rang the vet and we decided to ask the fire service for help.
"When we got her out she was very cold but OK.
"We gave her an injection of glucose to revive her."
He added: "This kind of thing happens from time to time. But it was a real team effort to get her out."