Shrewsbury baby ashes: Parents' 'shock' over son's remains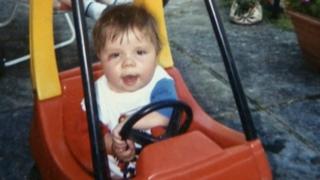 The parents of a dead toddler who spent the past decade believing there were no remains from their son's cremation have been told ashes were recovered.
Two-year-old Lewis Prior, from Shrewsbury, died in 2004 while waiting for a heart transplant.
He is believed to be the oldest among dozens of children cremated at the council-run Emstrey Crematorium whose ashes were not returned.
Shropshire Council said Lewis' cremation would be investigated.
An investigation by BBC Radio Shropshire that found just one in 30 sets of baby ashes had been returned to families by the crematorium since 2004.
Last week, the council announced an independent inquiry will be held into the failure to return cremated remains.
'Shock and anger'
Colin Prior said at the time of his son's death the family were told there would be no ashes, but were too upset to question it.
He said he was shown records at a meeting with the council on Friday that suggested he had given permission for the ashes to be buried at the crematorium.
"I can't give permission to strew the ashes when I was told there wouldn't be any," Mr Prior said.
"Shock doesn't cover it, anger doesn't cover it."
In a statement, Shropshire Council said it was "clear that these records don't match with Mr Prior's recollection of the circumstances surrounding Lewis' cremation".
"We're very concerned about this and we will ensure that the independent inquiry we commission investigates appropriately," it added.
"Our thoughts are with the Prior family and all the other families of babies and children cremated at Emstrey Crematorium.
"We will do everything we can to find out what happened to the cremated remains of all the babies and children concerned, unless their family do not wish us to do so."
Emstrey Crematorium was run by Shrewsbury and Atcham Borough Council, before it became part of a unitary authority in 2009.