Telford New College teachers strike for second day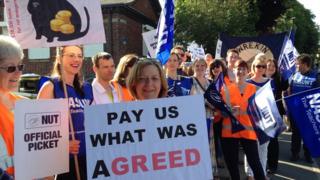 Teachers at a Shropshire sixth form college have gone on strike for a second day in a dispute over pay.
The NUT, NASUWT and ATL unions at New College, Telford, said their members were angry that a nationally agreed 1% pay rise had not been applied.
The unions said more than 60 out of about 70 teachers at the college were on strike.
New College said funding cuts meant it could not afford the rise in this financial year.
It added that exams would not be affected by the strikes, while lessons had finished for the year.
Acting Principal Fiona O'Brien said in the past week the college had agreed to implement the 1% pay rise from September, as well as the previous offer of a £100 bonus in this financial year.
"Like many large employers in the private and public sectors, a 1% increase to our wages bill against a backdrop of declining funding and increasing pension costs since 2010, is unfortunately not sustainable both for this financial year and the next," she said.
Paul Morris, for the NUT, said New College was one of just two sixth form colleges not to implement the nationally agreed deal in 2013-14.
He said members of all three unions had rejected the improved offer.
"The concern is that once out of step we would never get back," he said.
"Over 90 sixth form colleges have paid this and a lot of them in a worse financial position than New College.
"We all understand the financial pressures, but the college can afford this."