Ambulance crew threatened as England lose to Uruguay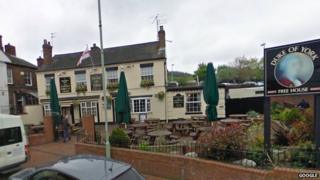 Ambulance staff were delayed in treating a fan watching an England World Cup match in a pub after a woman threatened to "rip their faces off".
An ambulance was called to treat a semi-conscious woman at the Duke of York pub in Oakengates, Telford, during England's key match on Thursday night.
The woman, in her 20s, fell "when the second Uruguay goal went in", West Midlands Ambulance Service said.
Crews were threatened by a second woman as they attempted to treat the victim.
The ambulance service said staff called for both police and a paramedic and in the meantime managed to reach the victim, who was later taken to the nearby Princess Royal Hospital.
The woman who abused them fled the scene before police arrived.
Assistant area manager Rob Marsh said: "We all understand the upset and the passion of following our national team, whether it's football or cricket, but emotion doesn't really mix with alcohol and that appears to be the case here.
"We all know as humans that things escalate and threats eventually turn into actions."
The service said it had noticed a notable drop in 999 calls during World Cup matches, but a rise soon afterwards.