Telford on 'wish-list' for 'super A&E'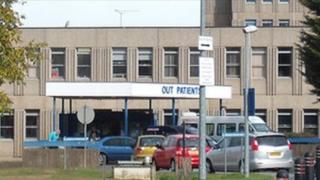 A new "super A&E" could be built in Telford, a report on the future of Shropshire healthcare suggests.
The Future Fit report by the local Clinical Commissioning Group outlines plans for better integrated services.
Plans for paediatrics state that it "requires co-location" with the new A&E. The hospital trust, meanwhile, is currently planning a move to a new £28m women and children's unit in Telford.
Caron Morton, from the CCG, said no decisions had yet been made on the A&E.
She said the report was led by clinical staff and represented a "wish list" for doctors "in a perfect world" but there were a number of other factors to be considered.
"When you start to look at a whole-system redesign, the difficulty is that it gives you more questions than answers," she said.
'Integrate services'
Shrewsbury and Telford Hospital Trust's new women and children's centre in Telford is expected to open in September.
It will be the main base for children requiring an overnight stay, ongoing cancer treatment or haematology care.
Plans for the new "super A&E", referred to as an emergency care centre, were put forward in March.
In the Future Fit report, Edwin Borman, medical director at the hospitals trust, said a number of options remained available, including building a new site in either Shrewsbury or Telford.
Dr Morton said the over-riding plan was to integrate services, while making best use of the likely budget over the next 20 years.
A public consultation is expected to start next year.