Newly-restored section of Montgomery Canal opens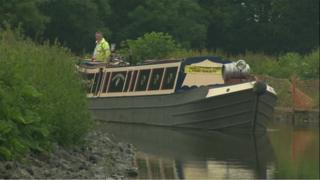 The first narrowboat cargo in almost 80 years has navigated a newly-restored section of a Shropshire canal.
It follows a six-year project by volunteers to rebuild a 450m (1,476ft) stretch of the Montgomery Canal between Redwith and Pryces Bridge, which was completed last month.
The cargo, a barrel of beer, arrived at Pryces Bridge, near Llynclys on Saturday.
It left Frankton Lock aboard the Montgomery narrowboat on Friday.
It marks the first time the stretch has been open to boats since 1935.
The Shropshire Union Canal Society, which carried out the work, said the significance of the barrel of beer was that the "navvies" who originally built the canals were traditionally provided with this when a job was completed.
The restoration project has seen a modern watertight membrane used, rather than the traditional clay, to seal the canal.
Volunteers were now expected to move on to restore the next section to Crickheath Wharf, the society said.