University power plant in Shropshire closed by leak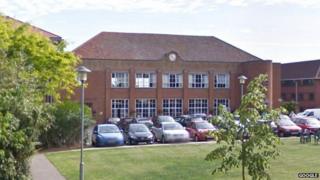 A university power plant that turns food and farm waste into electricity has been temporarily shut down after part of it collapsed.
It is the second time there has been a leak from the anaerobic digester at Harper Adams University, Shropshire.
The Vice Chancellor, Dr David Llewellyn, said it was investigating the cause of the leak on Friday, but that nobody had been hurt.
The Environment Agency is working with the university on the investigation.
Dr Llewellyn said: "Damage occurred to various structures on the site and one processing tank did collapse."
Some anaerobic digestate, a by-product of the slurrying process that can be used as fertiliser, spilled on to an access road and a nearby field and police closed part of the B5062 near Newport as a precaution.
The university said most of the digestate was contained and it had not appeared to get into local watercourses, but it would "continue to closely monitor the situation".
It has not said when energy production will resume.
The £3m anaerobic digester was built in 2011 and Dr Llewellyn said it "has been working extremely well".