Oswestry nursing group milestone celebrated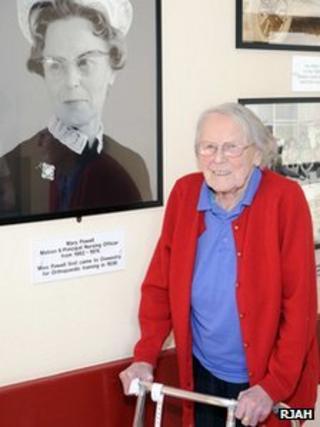 Events to celebrate 50 years of a nurses' group have taken place at a Shropshire hospital.
A special service was held earlier for the Oswestry League of Nurses at The Robert Jones and Agnes Hunt Orthopaedic Hospital (RJAH).
The group was formed to bring together nurses trained at the hospital.
A statue of former matron Mary Powell, who died aged 98 in 2011, was also unveiled, and a walk reviving memories of the hospital took place.
The matron and principal nursing officer from 1962 to 1974 trained at Oswestry from 1936 and worked alongside one of the hospital's founders, Dame Agnes Hunt.
Specialist nurse Carolyn Evans said it was "such an important event", celebrating nurses who had worked at the hospital.
The trust in Oswestry serves a local population in Shropshire, Wales, Cheshire and the West Midlands of about 1.8 million.